Speaker Bio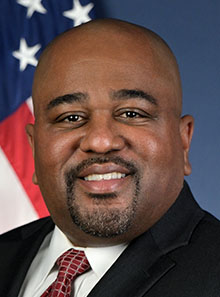 Earl Adams, Jr.
Chief Counsel
Federal Motor Carrier Safety Administration
Earl Adams, Jr. is the Chief Counsel for the Federal Motor Carrier Safety Administration. He is responsible for legal policy on all aspects of Agency programs and activities including the development, issuance, interpretation, enforcement, and defense of the Federal Motor Carrier Safety Regulations before state and federal courts. He also supervises a team of approximately 50 attorneys that provide legal support on budget, procurement, fiscal law, ethics, personnel and employment related matters.
Earl is litigator and regulatory attorney with extensive experience representing clients in both federal and state courts in commercial disputes and advising on compliance matters. Prior to joining FMCSA, Earl was a partner in the litigation department of a national law and served as the Managing Partner of the firm's Washington, DC office. There, he advised a diverse list of clients to comply with regulatory obligations and to compel government action across several sectors, including transportation, public utilities, and renewable energy. He is also a former chairman and board member of the Metropolitan Washington Airports Authority, which manages Reagan National and Dulles International Airports.
In the public sector, Earl served with distinction as chief of staff to the former Lieutenant Governor (now Congressman) of Maryland, Anthony G. Brown. As a member of Governor Martin O'Malley's Executive Cabinet, he managed the Office of the Lt. Governor and a portfolio of policy and budget issues and priorities.
Earl earned a Juris Doctor from Boston College Law School, a Master of Public Administration from the Harvard Kennedy School and a Bachelor of Arts, cum laude, from Morehouse College.
Earl is deeply committed to the critical safety mission of the U.S. Department of Transportation and the Federal Motor Carrier Safety Administration.